30 June 2019
Shiraz – which is synonymous with Syrah – is by far Australia's most produced and consumed winegrape variety representing some 27% of the national vineyard … well ahead of Cabernet Sauvignon (17%) and Chardonnay (14%). What we drink on the Mornington Peninsula is not terribly different to the rest of Australia but the cool climate wine-growing conditions here mean that Shiraz accounts for only 4% of the Peninsula's plantings, way behind the dominant Pinot Noir (46%), Chardonnay (26%) and Pinot Gris / Pinot Grigio (18%) varieties.
While we may not grow much Shiraz on the Peninsula it remains one of our favourite tipples. And it stands to reason that most of the Shiraz we drink comes from out-of-town as, of course, did Shiraz / Syrah in the first place. But from where? Let's get the myths about the origins of Shiraz out of the way first.
The most common myth concerns Shiraz, a city of nearly 2 million people and capital of Fars province in south-central Iran, approximately 700 kilometres south of Tehran. Many fine things can be attributed to the city and the province including the language we know as Farsi, the Arabicised form of Pārs. Two of Persia's most famous poets, Saadi (1210-1291) and Hafez (1315-1390) called the city home and it was briefly the Persian capital from 1747 to 1779 during the Zand dynasty. By the ninth century Shiraz had established an enviable reputation for making the best wine in the world and more than eleven hundred years later many people still put 2 and 2 together and wrongly conclude that the answer is IV.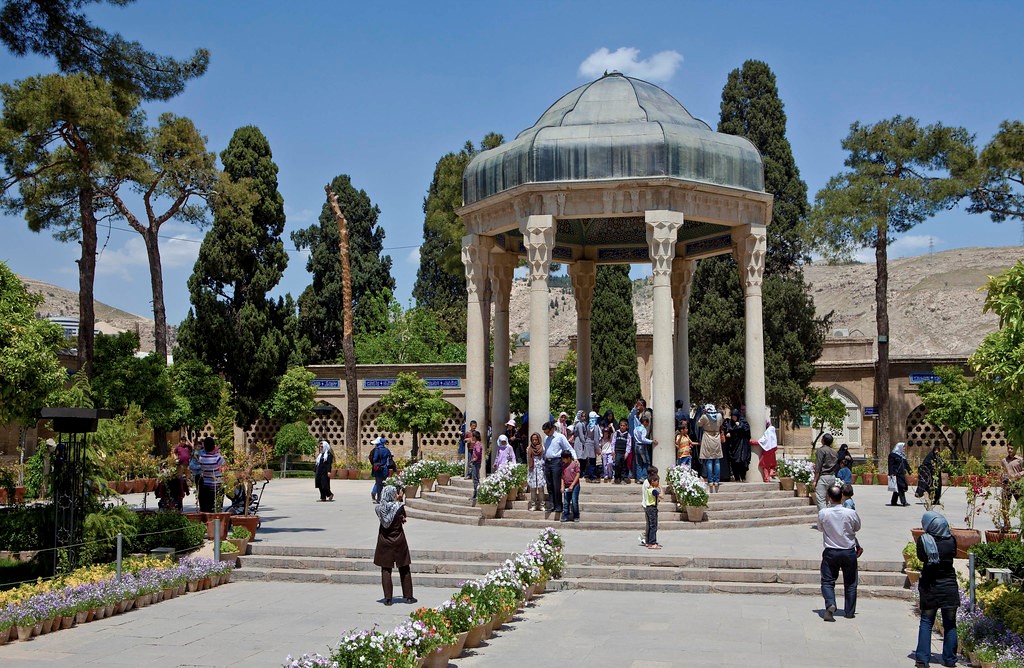 THE TOMB OF HAFEZ, SHIRAZ IRAN: A PERSIAN POET WHO "LAUDED THE JOYS OF LOVE AND WINE"
But, as Mr Spock said to Captain Kirk in Star Trek, "It's life Jim, but not as we know it," the fine wine of Shiraz was not the Syrah or Shiraz we love today. DNA typing at the University of California-Davis and the Institut National de la Recherche Agronomique in Montpellier in 1998 established that Syrah / Shiraz is a hybrid French wine grape variety, a crossbreed of two relatively obscure grapes from south-eastern France, Dureza and Mondeuse Blanche. Dureza, the father of Syrah, is a rarely grown red wine grape from the Rhône-Alpes region of the Ardèche department while Mondeuse Blanche, the mother of Syrah, is a rare white wine grape variety from the Savoie wine region. So, Syrah is French and not from Persia, Sicily, Egypt or anyplace else.
However, if the fine Shiraz wines of olden days were not Syrah what were they? Firstly, it appears they were white not red and, secondly, they were produced in two different styles: dry wines with a bitter taste for early drinking and sweet wines meant for ageing. The sweet wines were favourably compared to "old sherry" which was a prized European wine style of the 17th and 18th centuries but apart from suggesting that they were dried, the grape varieties used are something of a mystery. A likely answer is that they were made from grapes dried to concentrate their juice, like raisin wine, but as the 1979 Islamic revolution in (then) Persia closed the more than 200 wineries in the country we may never know.
Despite coming from two completely different and widely separated areas of France, Cabernet Sauvignon and Syrah / Shiraz have much in common. Cabernet Sauvignon – one of the world's most elegant and most-grown red wine varieties – is also a hybrid, the product of an accidental 17th century crossing of Cabernet Franc and Sauvignon Blanc in south-western France. Syrah / Shiraz and Cabernet Sauvignon are the fourth and sixth most grown winegrape varieties in France – separated by Carignan but behind Merlot, Grenache and Ugni Blanc – and are the two most grown wine grape varieties in Australia.
The creator of Australia's most collectable wine, Max Schubert, visited the major wine areas of France in 1950 and conceived the idea of producing a long-life Australian red wine like those in Bordeaux. However, of the four major grape varieties used in those Bordeaux red wine blends only Cabernet Sauvignon and Malbec were available in South Australia and they were deemed to be in such short supply as to make them commercially impracticable. As an aside it is hard to imagine that Merlot – one of the four most important grape varieties in Bordeaux and the third most-grown red wine variety in Australia – was not more available in South Australia as recently as 70 years ago!
So, the momentous decision was taken to make the new Grange wine from Shiraz and the first two vintages – 1951 and 1952 – were made entirely from that grape. However, most subsequent vintages of Grange except for 1963, 1999, 2000, 2001 and 2011 contain at least some Cabernet Sauvignon, as little as 1% in 1985 and as much as 14% in 1993.
Max Schubert paid tribute to his use of Syrah / Shiraz in Grange by using the name "Hermitage" on the label, a practice that continued through to the 1989 vintage. It was discontinued the following year after European Union objections to the use of a French place name on a product sourced from outside of the EU. Hermitage is a French AOC in the northern Rhône producing mostly fine red wines and the hill above the town of Tain-l'Hermitage and the Rhône River is honoured as the spiritual home of Syrah.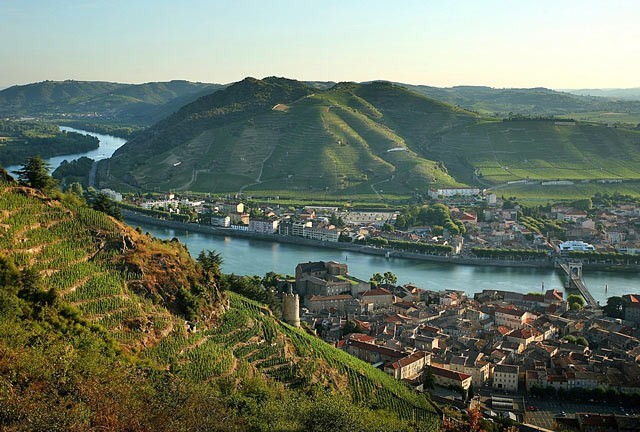 THE SPIRITUAL HOME OF SYRAH: THE HILL ABOVE TAIN-L'HERMITAGE AND THE RHÔNE RIVER
The Rhône river, one of the great rivers of Europe, is a major part of this conversation. Rising in in the Rhône Glacier in the Swiss Alps, it runs west through Lake Geneva before crossing into France and heading south to the Mediterranean at Port-Saint-Louis-du-Rhône, approximately 45 kilometres west of Marseilles. On the way it runs through the small northern Rhône wine region between Vienne and Valence and then through the much larger southern Rhône wine region between Montélimar and Avignon.
While the northern Rhône region represents just 5% of the total Rhône wine activity and Syrah is the only red wine grape permitted to be used, the appellations which include Côte Rôtie (where Syrah is often co-fermented with up to 20% of the white wine Viognier to lift its perfume and colour), Saint-Joseph, Hermitage, Crozes-Hermitage and Comas all produce world-class red wines with Syrah the star of the show. Many will remember Australian Shiraz-Viognier wines containing less than 5% Viognier that did not require identification of the white grape on the label at all. But as it was trendy to do so at the time the Viognier shared centre stage with the Shiraz.
Syrah also plays a role in the southern Rhône wine scene but is outmuscled by the region's prominent black grape variety Grenache, which is thought to have originated in Spain, and is commonly the majority component of red wine blends. The best-known appellations are probably Châteauneuf-du-Pape, literally the Pope's new castle, Côtes du Rhône and Côtes du Rhône-Villages. Pope Clement V's move of the papacy from Rome to Avignon in 1309 certainly focussed attention on the southern Rhône region as did the presence of his six Avignon papal successors: John XXII, Benedict XII, Clement VI, Innocent VI, Urban V and Gregory XI over a period of nearly 70 years. In particular, the second Avignon Pope John XXII did much to assist the wine industry during his 18 years there.
The wines of the southern Rhône are mainly reds supplemented by high-octane rosés and some whites. Many of them contain several wine grape varieties with the blend of Grenache, Syrah and Mourvèdre – also a Spanish-origin wine grape – probably being the most famous. GSM wines are also popular in Australia with some producers using one of the alternative names for Mourvèdre, Mataro, in the blend.
With the Syrah / Shiraz wine grape now being grown in many parts of the new and old wine worlds, the question arises of how it came from France to Australia. And the most popular answer is that the "Father of Australian Viticulture" James Busby set out for Europe in 1831 to collect vine cuttings in France and Spain for introduction to Australia and that one of the varieties he gathered was Syrah, a grape then known as "Scyras" or "Ciras". The cuttings were initially planted in the Sydney Botanical Gardens and the Hunter Valley and from 1839 in South Australia. The world's oldest commercial Shiraz vineyard is understood to be that of Langmeil at Tanunda in the Barossa Valley, where the Shiraz vines were originally planted in 1843. By 1860 Shiraz had established itself as an important variety in Australia.
Australia's varied climate naturally lends itself to the promotion of specialist wine-growing regions and while we on the Mornington Peninsula like to think of "cool climate" as one of our own developments, most of the work on classifying the climate of the world's wine growing regions dates back to the original handiwork of A.J. Winkler and Maynard Amerine at the University of California-Davis in 1944.
The Winkler Index or Scale divides the wine-growing areas of the world into five climate regions based on temperature converted to growing degree days and is most commonly known as Regions I-V, with Region I being the coolest and Region V the warmest.
Syrah / Shiraz is best suited to Region II (with Cabernet Sauvignon, Chardonnay, Merlot and Semillon), Region III (with Grenache, Barbera and Tempranillo) and Region IV (with Carignan, Cinsault, Mourvèdre and Tempranillo).
Region II includes the Adelaide Hills, Coonawarra (which many will recall previously being mainly a Shiraz-growing area) and Frankland River; Region III incorporates the Clare Valley, the Lower Hunter Valley, Margaret River, the Northern Rhône and the Yarra Valley; while Region IV encompasses the Barossa Valley, Langhorne Creek, McLaren Vale, the Southern Rhône and the Upper Hunter Valley.
Now we know where Syrah / Shiraz comes from and where it doesn't come from, the fact that it is a hybrid variety, how it came to Australia, where it grows best, and that it has cool and warm climate differences in flavour and aroma. But what makes it so popular?
In the third edition of her Oxford Companion to Wine Jancis Robinson notes that Syrah is "one of the noblest and currently most fashionable red wine grapes, if nobility is bestowed by an ability to produce serious red wines capable of ageing majestically for decades and if fashionability is measured by the extent to which new cuttings are currently going into the ground all over the world." But what does it taste like?
Philip Smith of https://thewinedepository.com.au knowledgeably describes Shiraz as "a bit of a chameleon (that) can change how it looks depending on terroir and/or winemaker influence. The Syrah-based wines of Northern Rhône are dry and austere while the Shiraz of the Barossa are rich and fleshy. In cooler climates and/or seasons it is very much driven by white pepper, red and blue fruits and even some floral notes. It is often a lot more savoury with earth/meat/gamey elements being more evident. Warmer climates and seasons can see Shiraz that tastes of dark fruits, fruit cake, plums, jam, chocolate, stewed fruits, liquorice. The savoury flavours are more of leather and dry earth."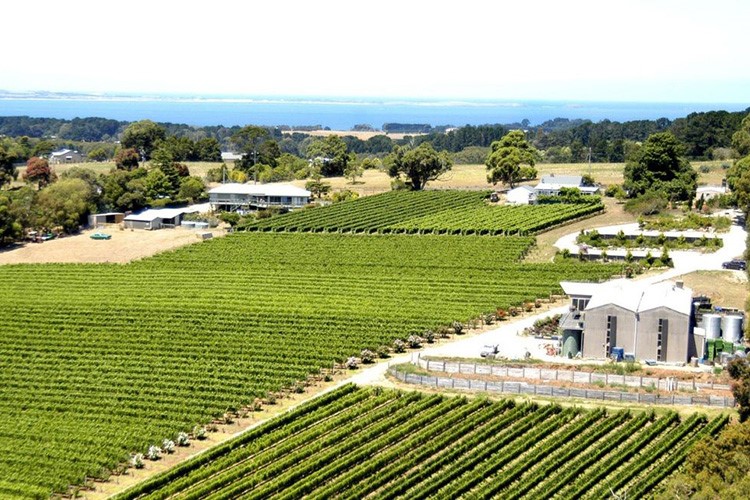 PARINGA ESTATE: COOL CLIMATE SHIRAZ FROM THE MORNINGTON PENINSULA
So, whether you are contemplating a cool climate wine from Beechworth, Heathcote or the Mornington Peninsula or a warm-climate wine from the Barossa Valley, McLaren Vale or the Southern Rhône, Shiraz has you covered. And aren't you glad we decided to talk about it?
https://frankstonwinefoodsociety.com.au/wp-content/uploads/2017/07/FWFS-Logo.jpg
0
0
admin
https://frankstonwinefoodsociety.com.au/wp-content/uploads/2017/07/FWFS-Logo.jpg
admin
2019-06-30 10:26:25
2020-05-13 10:34:46
Let's Talk About Shiraz | Tony Bracy