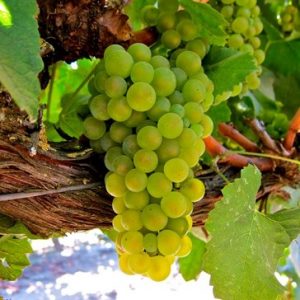 Sadly, we don't seem to hear much about the Spanish white winegrape variety Airén (i-REHN) these days. While Airén still covers more vineyard area than any other white winegrape in the world it was, until recently, the most widely grown winegrape of any kind on the planet.
This lack of news may result from the fact that Airén is largely grown only in the Castile-La Mancha and Valdepeñas areas of central Spain and in Extremadura on the border with Portugal and that it is mainly used to produce Spanish brandy – where no Denominación de Origen is needed – and to make dry white wines of no particular distinction.
It may also be a sign of the love affair that connoisseurs are having with the red wine variety Tempranillo and the more fashionable Spanish wine-growing regions of Rioja, Ribera del Duero, Navarra and Penedés. The vineyard area of Tempranillo in Spain and in Portugal, where it is known as Tinta Roriz, essentially doubled between 1998 and 2004. And as it has also taken root in Argentina, France, California and Australia, Tempranillo's worldwide vineyard area grew nearly fivefold between 1990 and 2010 to become the fourth most planted winegrape variety according to Professor Kym Anderson's empirical 2013 volume Which Winegrape Varieties are Grown Where?
Professor Anderson notes that the area planted to Airén fell by almost half during this period from 476,396 hectares in 1990 to 252,364 hectares in 2010 to be the third most planted winegrape variety in the world. The enormous area remaining is still slightly larger than the Australian Capital Territory and, according to the L'Organisation Internationale de la Vigne et du Vin (OIV), about 40% greater than the total Australian area under winegrape in that year.
The OIV reported a 28.2% decline in the surface area of Spanish grapevines from 1,506,000 hectares in 1990 to 1,032,000 hectares in 2011. Airén is understood to have accounted for about 47% of the fall during this twenty-one year period while its share of the total Spanish vineyard area declined from 31.6% to less than 25%. And this trend is expected to continue.
Surface measurements, however, tend to flatter both Spain and Airén due to low planting densities and low yields. O.I.V. statistics show that Spain had the world's largest surface area covered by vineyards in 2011 ahead of France and Italy but ranked only third behind those countries in wine production. Spain produced just 32.36 hectolitres of wine per hectare of vines in 2011 compared to 61.5 hectolitres in France and 53.58 hectolitres in Italy. And in 2011 France regained its position as the world's largest wine-producing country, a title Italy had held between 2007 and 2010.
La Mancha's arid plains result in Airén being cultivated with an unusually low vine density of about 1,500 vines per hectare, producing even lower yields than the Spanish average. Airén is very tolerant of the extremes of cold and heat experienced in central Spain and is drought-resistant, a fine attribute given the EU ban on irrigation. It grows strongly as a bush vine with large, tight bunches of light-skinned yellow grapes and is known variously as Forcayat, Lairén, Manchega and Valdepeñera in other parts of the country.
Don Quixote, the Man of La Mancha himself, was notably involved with red wine in his battle with wine skins in the First Part of the Cervantes odyssey but his squire Sancho Panza and the squire to the Knight of the Wood knowledgeably tasted the wine of Ciudad Real, the province and city in Castile-La Mancha, in the Second Part of the book. As Airén is the most planted grape variety in Ciudad Real it could well have produced the wine the two squires fictitiously tasted in 1615.
The 1492 capture of Granada completed the Christian reconquest of Spain and ended the Islamic prohibition of alcoholic beverages. Under the Catholic monarchs Isabella of Castile and Ferdinand of Aragón and with the enthusiastic support of the re-established monasteries Spanish winemaking recovered quickly. La Mancha became the Court's winery until French winemakers fleeing the phylloxera devastation of the 1860s moved into Rioja, revitalising and modernising Spain's wine industry. Airén's hardiness led to its adoption as a vine replacement when phylloxera finally arrived in Spain and destroyed most vineyards at the end of the 19th century and it was further boosted in the mid-20th century when the government offered to buy all local brandy production. And with its high sugar levels Airén proved to be an ideal grape variety for brandy distillation.
Spanish brandy, Brandy de Jerez, is dominated by the famous Sherry houses of Andalucia but as the Palomino Fino grapes used for Sherry are usually too expensive for making brandy they use Airén grapes and process the wine using column stills on site in Castile-La Mancha and Extremadura. The product is then moved to Jerez de la Frontera for aging in casks previously used for ageing Sherry.
Vinexpo, the international wine and spirits exhibition, reports that while Cognac and Armagnac consumption remained steady between 2007 and 2011, brandy consumption increased by 23.24% and was expected to grow further in the years to 2016. And should this trend continue brandy would appear to be a reasonably safe haven for less distinguished white winegrape varieties such as Airén in Spain and the winegrape variety known as Trebbiano Toscano in Italy and Ugni Blanc in France.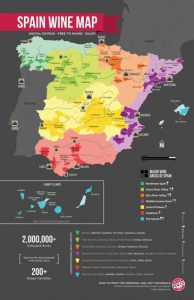 Spanish consumption of Brandy de Jerez is impressive. In 2008 more than 36 million bottles were bought in Spain, more than half of the more than 64 million bottles sold worldwide, and they currently produce as many as 80 million bottles of which just 20 million are exported. So while domestic brandy consumption remains strong it will be the uncertain future for bulk white wines such as Airén that will continue the uprooting of Spanish vines already reflected in the vineyard area statistics.
But it is not simply the decline in the plantings of some white winegrape varieties; there has been a surge in the area of red winegrape plantings over the first decade of this century – including Tempranillo, Syrah, Pinot Noir, Cabernet Sauvignon and Merlot – that looks to be unstoppable. Professor Anderson confirms that both Cabernet Sauvignon and Merlot leap-frogged Airén between 2000 and 2010 to become the largest and second-largest winegrape variety plantings on the planet and that red winegrape varieties now account for more than 55% of the world's winegrape area.
If there is to be a white winegrape revival it may be that the world's present affaire de cœur with Chardonnay – and to a lesser extent Sauvignon Blanc – may help them to become the dominant winegrape varieties they have long promised to be.
https://frankstonwinefoodsociety.com.au/wp-content/uploads/2017/07/FWFS-Logo.jpg
0
0
admin
https://frankstonwinefoodsociety.com.au/wp-content/uploads/2017/07/FWFS-Logo.jpg
admin
2017-05-13 10:28:16
2020-05-13 10:36:46
The Shrinking Grape of La Mancha | Tony Bracy